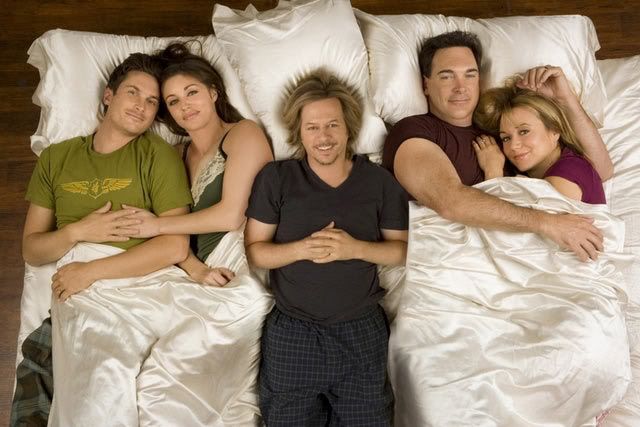 Очередной ситком "типа Друзей". Дом, пять персонажей, кафешка + прочие локации.

1) Адам и Дженнифер. Только что обручились и решают съехаться. Хотя и знакомы всего семь месяцев. По двум сезонам пока самая слабая часть из трёх составляющих сериала. С ними достаточно смешных моментов, но в общем сцены 50/50.
2) Рассел. Меланхоличный карлик-ловеслас. Почти все шутки одной направленности, но частенько жжот нещадно.
3) Джефф (Patrick Warburton, голос Джо Свонсона из Family Guy) и Одри. Более-менее счастливо женатая уже двенадцать лет пара. Вот в них самый сок. Большая часть экранного времени отдана им на откуп, и они доверие оправдывают.

За счёт того, что в первом сезоне семь серий, а во втором девять (если ещё не снимут), пролетает быстро и надоесть не успевает. Есть пара неудачных моментов, но всё равно сериал смотрится достаточно ровно и неизменно забавно, уверенно балансируя между "жить вместе всю жизнь это атас" и "но ведь живём же!". Хорошее развлечение на пару вечеров.

- What's on your face?
- It's a cheese doodle. I had a good night too. I caught a Steven Seagal marathon on TV. He cannot act.
- Did you get any sleep last night?
- I think so.
- I dozed off during a movie where Seagal was skinny, I woke up during one where he was fat. Fat or thin, that man cannot act.


- I don't think anything, because it's not my business. Plus, you know I would never do what he did.
- I know you wouldn't.
- He had to hit the ATM twice to pay her.
- I just thought you'd be a little more disgusted by his sleazy behavior.
- Well, guys don't judge things other guys do. It's separate from the friendship. That's the code that guys live by. That's guy code.
- So under guy code, you can just excuse any bad behavior just to go to a sky box?
- It was invented by guys.
- You know, if Katy were an old friend, I would tell her. I just don't know her that well.
- Even if you did you couldn't.
- Why not?
- Because Ray told me, and guy code demand that it go no further.
- But you told me.
- I'm allowed to, because of marriage code.
- That doesn't make any sense.
- It makes perfect sense. Guy code and marriage code can intersect. The information I gave you is covered primarily under guy code. So again...you can't tell Katy.
- What about woman code?
- Don't make me laugh.